St Pete's Beach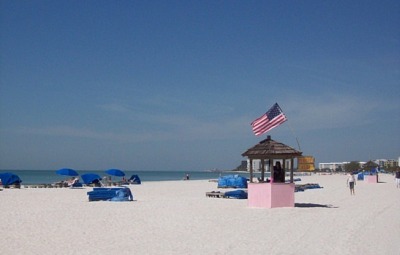 St. Pete Beach is located in the Pinellas County on the west coast of Florida in the USA. The Pinellas Peninsula is located between the Gulf of Mexico and Tampa Bay. St. Pete Beach is filled with great history, wonderful restaurants, gorgeous sunsets and perfect weather. Shopping at the Historic Corey Avenue Shopping District or any of the other great shops located on Gulf Blvd can be an exhilarating experience.
Attractions
St. Pete Beach has many shops, museums and other activities to find something for everyone in the family. Florida International Museum, MOSI - Museum of Science & Industry & IMAX Dome Theatre, theme parks like Busch Gardens and Dinosaur World.
Aquariums and zoos like The Pier, Earth friends Inc, Busch Gardens, Sun coast Seabird Sanctuary Inc, Florida Aquarium etc are all worth visiting. Florida Botanical Gardens at Pinewood Cultural Park, Gulf Beaches Historical Museum, Salvador Dali Museum, Suntan Art Center, Hubbard's Marina etc. are other important attractions.
Shopping
The Tampa Bay area is a large metropolitan area with a variety of Tampa Bay clothing stores. There are several world-class Tampa Bay malls to choose from quaint seaside shops, an outdoor shopping center, or couture designer stores. A few malls and markets are the Westshore Plaza and Prime Outlets in Ellenton, Dolphin Village Shopping Center, Sweet bay Supermarket, Publix Supermarkets in St. Pete Beach.
Restaurants
There are ample restaurants in St. Pete Beach. For Casual dining Woody's Waterfront Restaurant, Westshore Plaza, Shells Fresh Seafood, Twistee Treat Icecream, Chick-fil-A, Addicted to the Bean, Hurricane Seafood Restaurant, GiGi's Italian Restaurant. Savannah's Café etc. can be worth visiting. For Fast Food, McDonald's Restaurant in St. Pete Beach, Waffle House, Larry's Ice Cream etc. are places to be.
Nightlife
Many of the bars and lounges in St. Pete Beach are right on the beach and are fabulous places to enjoy the sunset. In Tampa Bay area, bars are eclectic and vary from extremely laid back beach bars to ultra chic dance clubs. Some noteworthy bars are Pirate's Cove at the Friendly Fisherman, International Plaza & Bay Street, Silas Steakhouse, Wine Cellar Restaurant & Fine Catering, Shells Fresh Seafood, and Friendly Fisherman Restaurant etc.
Activities
St. Pete Beach has a favorable climate for all year-round enjoyment of outdoor activities ranging from boating, cycling and fishing, to amusement parks, to just lying on the beach. The other activities can be visiting the various Aquariums & Zoos, Botanical Gardens, Camping, Cruise Boats, Cycling, Fishing, Gaming, Golf Courses, Museums, Parasailing and Water Sports. There are a wide range of water activities, from Jet Ski rentals to parasailing, kayaking and fishing.
Communication
The international access code for USA is +1. The outgoing code is 011, followed by the relevant country code. Plenty of pay phones are available throughout the country. Cingular and T-Mobile are the largest mobile operators and cover the entire nation. Internet is widely available.