Florida Villas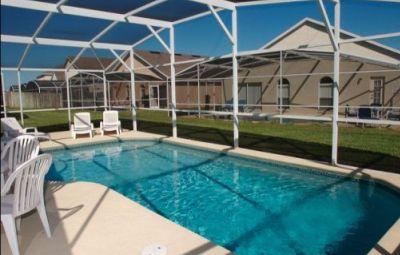 Stay at some of the finest Florida villas with Unbeatable Florida. As an online travel shop, we offer you packaged holidays to all Florida destinations, theme parks and attractions. Browse our website to select the holiday package that matches your preference. All our Florida villas are comfortable, luxurious and private. If, however, you have specific needs, such as a private swimming pool or gym access, you will find a Florida villa that suits you.
Unbeatable Florida offers your value for money on all holiday packages. Get a cheap Florida holiday, flight to Florida, and car hire. Unbeatable Florida also supports late availability; if, at the last minute, you decide to make Florida your holiday destination, we will put together a holiday package quickly, for your convenience. You are not penalised for last minute holidays at Unbeatable Florida; we have a wide range of Florida villas that you can choose from at any time.
In comparison to hotels, Holiday Your Way's Florida villas give you more freedom to enjoy your holiday - whether as a couple or extended family. Our Florida villas are spacious and can house up to five people. Unlike hotels, our Florida villas are equipped with full kitchen facilities, lounge areas, decks, and private pools, so ultimately you get more luxury and save cash.
From our Florida villas, you have access to all of the many attractions of Florida - from theme parks to natural wonders. Visit the gorgeous beaches and coastlines across the Atlantic coast on the east or the Gulf coast to the west. Explore the Florida Keys and the giant coral reef. Get to grips with the elements, by visiting the water parks, ice-skating, going sailing, scuba or skydiving.
Have a casual game of golf on one of the many sunny greens; go shopping for souvenirs, gifts, get great deals and spoil yourself (Orlando is shoppers heaven comprising of thousands of shopping strips, malls with a diverse range of goods, often at knock down prices); and indulge yourself at a range of bars, cafes, and restaurants. Pay a visit to the world-renowned Daytona Beach, and take in some motorsport from the Daytona Speedway. Our Florida villas are located all over Florida; select your villa to suit your holiday itinerary.
Visit the vibrant cities of Orlando and Miami, or some of the charming, smaller towns, such as those off the gulf coast - Sarasota, Fort Myers, Clearwater Beach and Naples. Enjoy their scenic beauty in the comfort of your Florida villas.
With Unbeatable Florida, visit Walt Disney World in Orlando. Our Orlando villas provide close access to the four theme parks - Magic Kingdom, Epcot, Disney-MGM Studios, and Disney's Animal Kingdom Park - and resorts. Attractions worth noting include Universal's City Walk, Busch Gardens, Universal's Islands of Adventure, and SeaWorld.
Take part in the nightlife of Ebor City Tampa Bay, Downtown Disney, Miami South Beach and Downtown Orlando Church Street Station. Departing from the UK is made easy, with a comprehensive range of airports to choose from - these include Cardiff, Bristol, Birmingham, Doncaster Gatwick, Sheffield, Glasgow, Prestwick, Heathrow, Liverpool, Luton, Stansted, Belfast, and Dublin you will get discounted prices on your flights. Select the destination where you would like to kick-start your holiday, by arriving at one of the followings airports: Tampa Airport, Miami Airport, Fort Lauderdale Airport, Orlando Sanford International Airport, or Orlando International Airport.
Try out some of Orlando's deluxe resort areas, such as Universal Boulevard, Kissimmee, Lake Buena Vista, Davenport US27, International Drive, and International Drive Area. Stay at Clearwater or St Pete's Beach, if you want to spend some time outside of Orlando.
In addition to Florida villas, we have a series of cottages, motels, hotels, apartments, suites, townhouses, houses, condos, chalets, and cabins. Similar to Virgin Holidays, and those offered by Travel City Direct, our holiday packages, at Unbeatable Florida, are all comprehensive. The concept behind us is that you don't have to wait until last minute to get the best deal.