Orlando Villas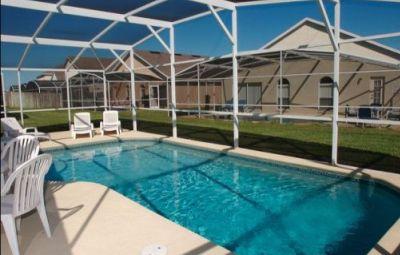 Make the most of your Florida Holiday by staying in Orlando villas. Unbeatable Florida presents you with a fine selection of well-priced villas to choose from. We are an online travel shop that specialise in providing packaged holidays to Florida. Our Orlando villas are private, comfortable and well equipped with facilities to make your stay most welcome.
If you are planning a family vacation to visit the Walt Disney World and Universal Studios theme parks, one of our villas is only a short drive away. Unbeatable Florida can arrange a rental car for you, during the course of your entire holiday or for specific days.
As opposed to hotels, Orlando villas cater for larger groups. Not only are villas cheaper than hotels - as groups are not charged per person, but for the villas as a whole - but also they are more private, allowing you spend quality time with your family or partner. With Orlando villas, you get full kitchen facilities and air conditioning and if you have specific needs, such a private swimming pool or gym access, we will find an Orlando villa to suit you.
Make your holiday at some of Orlando's superior resort areas, which include Universal Boulevard, International Drive, International Drive Area, Kissimmee, Davenport US27, and Lake Buena Vista. Or try the striking Clearwater or St Pete's Beach, positioned outside Orlando.
If you play golf, arrange an Orlando golfing day at one of the many golfing greens across Orlando. Play golf while the family goes to the Walt Disney World or Universal Studios theme parks. Choose your Orlando villas to suit your itinerary. There are many different options to choose from. Pick the Orlando villa that suits you, in the location you want and at the right price. If you want cottages, houses, condominiums, hotels, motels, suites, and apartments contact Unbeatable Florida - we will find the place to make your dream holiday come true. Experience the luxury of our Orlando villas at great prices.
Visit the many wonderful attractions the city has to offer. Make a stop in at SeaWorld, Jungleland zoo, Discovery cove, Universal's City Walk, Universal's Islands of Adventure, the NASA complex at Cape Canaveral. Experience an enriched family holiday with non-stop fun and excitement. Top off your packed itinerary at one of the Orlando villas.
Choose from a range of diverse restaurants that provide a multiplicity of flavours. Get great seafood, steaks, vegetarian, and Caribbean and Mexican dishes. Experience the magical cuisine that ranges in flavour and price all over Orlando.
Looking for a party or merely a few drinks. Experience the nightlife of Orlando. Pick from a vast range of Broadway shows, dance clubs, comedy clubs, bars, theater, live music venues, opera and much more. Then come home and relax in the splendor of your Orlando villas. Unbeatable Florida supports last minute holidays. You can book late for your holiday with Unbeatable Florida. We support late availability. You do not lose out, if you book late. You can still book from a wide range of Orlando villas.
Whether you are departing from Luton, Birmingham, Cardiff, Doncaster Sheffield, Glasgow, Gatwick, Prestwick, Liverpool, Bristol, Heathrow, Stansted, Belfast, and Dublin you will get unbeatable value on your flights. Choose where you would like to kick-off your holiday, by flying to one of the followings airports: Orlando Sanford International Airport, Orlando International Airport, Tampa Airport, Miami Airport, or Fort Lauderdale Airport.
Contact Unbeatable Florida to day to book your premium Orlando Villas. We are like an Expedia or a Travelocity - dedicated to the Florida product!