Sarasota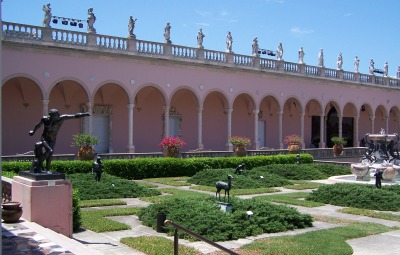 Sarasota is a wonderful place for holidaying. This sun-kissed paradise is located in the state of Florida in USA. Sarasota is famed among the neighboring countries as a cultural hub. Sarasota houses gorgeous sandy beaches that attract tourists from different parts of the world. There are many luxurious restaurants, shops and cafes in Sarasota for tourists' service.
Attractions
Travelers can visit the Selby Botanical Garden, where tourists can see local plants. A visit to the Crowley Museum and the John and Mable Ringling Museum of Art is a must by all the tourists to enjoy stunning artifacts. Tourists, especially with children must visit Pelican Man's Bird Sanctuary to witness herds of wildlife and different species of birds. Other places of interest include Sarasota Classic Car Museum, Sarasota Jungle Gardens, Circus Sarasota and Florida Gulf Coast Rail Road Museum.
Shopping
There are a multitude of shops in Sarasota that sell souvenirs, handicrafts, jewelry and other valuable delights. Most of the shops are located in the downtown. Around St. Armands square there are many fashionable shops that deal with branded outfits, fancy jewelry and expensive leather wares. There are also streets in Sarasota that reminds one of New York and Los Angeles. There are many art galleries, where tourists can buy art works of eminent artists. At the Pineapple Avenue there are innumerable shops that deal with antique pieces. There are also malls in Sarasota that vend eye-catching articles.
Restaurants
There are an exciting number of classy restaurants in Sarasota, where travelers can savor a wide choice of menus. Tourists can enjoy French cuisine at the restaurant The French Bistro. The Ristorante Italiano dishes-up the best Italian delicacies that are worth a try. Visitors inclined to taste the local gourmet can visit the restaurant Divino. Other suggested restaurants include the Mattison's, Selva Grill, Rustic Grill and the Esca restaurant.
Nightlife
Sarasota is a haven for party animals. There are a plethora of night venues in the downtown Sarasota, where travelers can chill-out till the early morning hours. In most of the night venues, internationally famed DJs anchor the shows. At the Gator Club tourists can listen and dance to rocking music. The Le Barge is a sailing club with all the amenities including a dance floor. Guests can enjoy music concerts at the Five O'clock Club on all the days of the week. Other suggested venues include the McCurdy's Comedy Theatre, Silver Cricket, Two Senoritas and the Marina Jack.
Activities
Tourists can enjoy scores of activities while at Sarasota. Kayaking is the most sought-after pursuit by the travelers of all age groups. Those who want to enjoy strenuous pursuits can opt for mountain biking, hiking and diving. Travelers can also enjoy bird watching, boating, windsurfing and paragliding.
Communication
The international access code for USA is +1. The outgoing code is 011, followed by the relevant country code. Plenty of pay phones are available throughout the country. Cingular and T-Mobile are the largest mobile operators and cover the entire nation. Internet is widely available.