Clearwater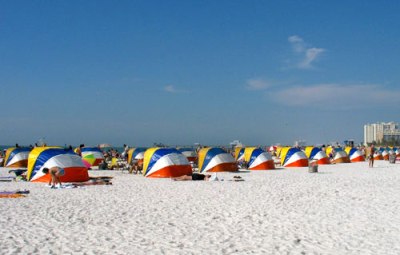 Clearwater is located near Florida's west coast near Gulf of Mexico and Old Tampa Bay, in the USA. It was designated as a Blue Wave Beach and its proximity to Orlando make it an ideal base for excursions. Clearwater is positioned on a higher altitude, and offers visitors beautiful beaches, great woods and wildlife and many waterways and inlets. Its temperate climate makes it ideal for water sports.
Attractions
Clearwater Marine Aquarium is the only attraction in Florida which offers tourists personal encounters with bottlenose dolphins, loggerhead sea turtles, Kemp's Ridley sea turtles, river otters, sting rays, local fish and coral reefs. There are many parks and recreation areas in Clearwater like the Joe DiMaggio Sports Complex, Long Center Playground, Morningside Recreation Complex, Clearwater Beach Recreation and Aquatic Complex.
Other attractions include the Florida Aquarium, Lowry Park Zoo, Florida Botanical Gardens, Pier 60, Pinellas Trail, the Clearwater Marina, and Moccasin Lake Nature Park. Those interested in history and museums can visit the Historic Fort Harrison, Indian Rocks Beach Historical Museum, Safety Harbor Historical Museum, Boatyard Village, and the Tarpon Springs Cultural Museum.
Shopping
Tourists in Clearwater have innumerable places to shop from small souvenir shops to specialty shops and malls. At Incredible Edibles, tourists can by gourmet treats and goodies. Tourists can also choose to take home their goodies in containers such as glass, tin, wicker, and ceramic. At a specialty store called Herb Shop Inc, visitors can get herbal cures and supplements for ailments and complaints like weight loss, allergies, sinus, insomnia, high blood pressure, menopause and sex rejuvenation etc.
The Farmer's market which is open every Wednesday has colorful tents and booths overflowing with farm fresh produce like seafood, baked goods, cheeses, and cut flowers and plants. For tourists looking for souvenirs, Robert's Christmas Wonderland is a huge store with Christmas décor. Visitors can look forward to picking up gifts like Swarovski crystal, Boyd's bears, Charming Tails, Beanie Babies, Annalee Dolls, Lenox Classics, Hallmark ornaments and a thousand other things.
Restaurants
Clearwater has over 60 local restaurants for tourists to sample. Tourists are exposed to a variety of cuisines from different parts of the world prepared by world class chefs. Among the many outstanding restaurants in the Clearwater area are Crabby Bill's, Backwater on Sand Key, Tommy Duff's Irish Aviation Pub, Island Deli, Maggie May's Sunrise Café, Barefoot Beach House, Big Ben British Pub, and the Capital Grille.
Nightlife
There are many night venues in Clearwater which range from night clubs and bars to dance studios to comedy clubs. Some of the well known nightlife zones where tourists can have a great time are 420 Park Place, Clearwater Hooters, Arthur Murray Dance Studio, Liquid Blue- Nightclub, Shepherd's Backyard Tiki Bar, Spurs in Ybor, Clearwater Hooters, Seminole Indian Casino, Side Splitters Comedy Club and nightclub.
Activities
The marina of Clearwater has many boats docked in its harbor and some of the activities that visitors can undertake are fishing, sightseeing, sailing, speed, marine life adventures, dining, dancing, parasailing and more. Dolphin watching is also popular. Art enthusiasts will enjoy the Gulf Coast Museum of Art, the Dunedin Fine Arts Center and Children's Art Museum, and Pinellas Park Art Society exhibits.
Golfers can play at the Bardmoor Golf & Tennis Club, Bayou Golf Club, Lansbrook Golf Club, and Belleview Biltmore Golf Academy. Pier 60 Park is also home to Sunsets at Pier 60, and a nightly "street" festival celebrating the setting of the sun which is a popular tourist attraction.
Communication
The international access code for USA is +1. The outgoing code is 011, followed by the relevant country code. Plenty of pay phones are available throughout the country. Cingular and T-Mobile are the largest mobile operators and cover the entire nation. Internet is widely available.