Orlando Town Home & Villas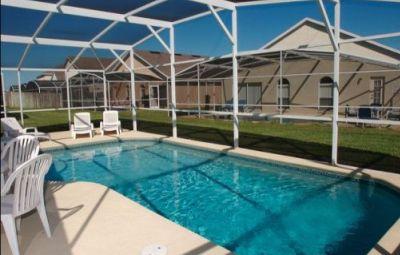 An increasingly popular choice for those preferring a self catering style of holiday at unbeatable value, a private villa is the perfect base for exploring Orlando and beyond to Florida's beautiful coasts.
Whether you're travelling as a family or a group of friends, a villa holiday will give you the freedom to dine out or to cook at home as you wish, the exclusivity of your own pool will deliver a level of privacy that's hard to match elsewhere. Our superb villa selection provides you with all the comforts of home, combining the convenience of a fully equipped kitchen and dining area with the sheer luxury of your own private splash pool; perfect for kicking back and unwinding after a hectic day at the theme parks.
Unbeatable Florida villas are located in the residential areas of Orlando and are guaranteed within a 20 minute drive* of Walt Disney World Resort. You'll find shops, restaurants and grocery stores all just a short drive away. Choose between 3, 4, 5 and 6-bedroom villas, all furnished to good standards and sleeping from 1-12 persons comfortably. A limited number of 7-bedroom homes are also available on request that can sleep up to 14 people.
Most villas are privately owned, all are fully air-conditioned and individually furnished. The master bedroom has an en-suite bathroom and double bed, with the additional bedrooms fitted with either double, twin beds or bunk beds and sharing a further bathroom(s), according to property size. The living and dining area will have table and chairs (though unlikely to fully seat a large party), at least one colour TV and telephone. Fully equipped kitchens all feature fridge/freezer, conventional oven and hob, microwave, dishwasher, coffee maker, washer/dryer and iron and ironing board. All homes offer private screened patio with splash pool and some may also have shared communal facilities.
STANDARD VILLAS WITH PRIVATE POOL
All standard villas offer the above facilities and will be located in some of Orlando's most popular villa communities, all within 20 minute drive* of Walt Disney World Resort.
EXECUTIVE VILLAS WITH PRIVATE POOL
Well worth the small additional upgrade cost, executive villas are tastefully furnished to a slightly higher specification and will be locate 20 minutes drive* of Walt Disney World Resort. Towels and bed linen will be supplied; however cots, rollaway beds and highchairs must be requested and paid for at the time of booking. Florida enjoys year-round sunshine; however pools will not be heated. If a heated pool is required, this must be requested at the time of booking. We strongly recommend pool heating during the months of October to April. Please note that on arrival guests are required to leave a $300 security deposit against a major credit card.
APARTMENTS, SUITES AND TOWNHOUSES
For those holidaymakers seeking the best of both worlds, these accommodations can offer superb flexibility. Perfect for larger families, all the conveniences and comforts of home are at your fingertips and yet you'll have the added benefit of full hotel services including restaurants, bars, 24hr reception. Unbeatable Florida feature a wide selection of great quality self catering accommodation ranging from standard to superior and all located within driving distance to the major theme parks.
APARTMENTS AND SUITES
Most of these properties operate as resort hotels with full-service amenities such as spacious heated pools, sundecks, dining bars and perhaps even dedicated children's facilities. Many are conveniently located with local shops and restaurants close to hand and all within driving distance of the major theme parks, some even offering a shuttle service. Unbeatable Florida suites or apartments will generally sleep up to 4 adults and 3 young children in comfort, usually in an open plan design featuring 2 queen-size beds and a double sofa bed in the lounge area equipped with microwave, oven and hob, fridge/freezer and coffee maker.
TOWNHOUSES
Townhouses are an ideal choice for larger groups and families offering a little more space and privacy of separate bedroom accommodation. Most townhouses are located within gated communities or resorts in the Orlando area, close to Walt Disney World Resortand other major theme parks. They offer their own private patio or terrace and share access to the communal pool or other resort facilities on offer. Furnished in similar style to the private villas, townhouses offer a master bedroom with en-suite bathroom and further bedrooms with shared bathroom(s), according to property size. A fully equipped kitchen provides fridge/freezer, conventional oven and hob, microwave, coffee maker, dishwasher, iron/ironing board and the lounge/dining area has TV, table and chairs.
NAMED VILLA LOCATIONS
Choose from these great names locations ALL within 20 minutes drive* of Walt Disney World Resort:
Calabay Parc
Southern Dunes
The Sanctuary
Orange Tree
Highlands Reserve
In addition these Resort Style locations have extensive communal facilities:
Windsor Hills
Solana
Emerald Island
RESORT STYLE CONDOS
Mystic Dunes
The Fountains
Vista Cay