Trips & Tours
Unbeatable Florida offers 1 and 2 day tours. Fun filled tours for all the family!
Trip 1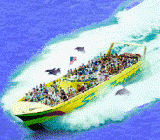 CLEARWATER AND SEA SCREAMER
Combine this great day on one of the US's most beautiful, whitest, sandiest beaches Clearwater Beach with the US's largest speedboat the Sea Screamer. We will take you on an hour long exhilarating boat ride during which you will see the magical Florida coast line and more often than not Dolphins playing in their natural habitat as it zooms through the Gulf of Mexico
Trip 2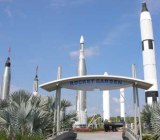 KENNEDY SPACE CENTRE
Great for family members young & old the Space Centre has and array of exhibits as well as a tour of the facility. Highlights of the tour include the Saturn V centre, the Observation Gantry, where you can view the impressive launch site, as well as being able to touch the moon & take part in your very own space shuttle countdown! Over at the main visitors complex have an interview with astronaut, watch incredible I-Max movies, stroll through the rocket garden & even step on board a real space craft!
Also available, ATX Astronaut Training and a once in a lifetime opportunity to see the shuttle take off and land.
Trip 3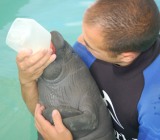 SWIM WITH THE MANATEES
Your day starts with a breakfast in Orlando. Then it is off to our team of professional manatee experts in Crystal River. Masks and snorkels are included for a fabulous, narrated boat tour on the picturesque Crystal River.
You are encouraged to swim and snorkel in the home of the Florida manatee while under the guidance of certified Dive Masters. Then enjoy a picnic style lunch over looking this beautiful sanctuary. Your afternoon starts with an exhilarating 45 minute airboat adventure on the beautiful Homosassa River; keep your eyes open for manatees as well as a whole host of other wildlife that often accompany you.
To end your day you'll visit Homosassa State Wildlife Park, famous throughout Florida for the rehabilitation of injured animals. It is here that you'll have the chance to see the current manatee residents at the park during an informative and entertaining feeding session with one of the park rangers. You'll also see bears, panthers, alligators and even a hippo as you explore the rest of the park.
Trip 3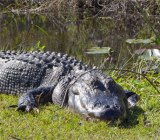 NAPLES AND EVERGLADES
How about some fun in the sun, en eco themed exhilarating airboat ride & a cruise around the inland waterways of Naples?
With a fully guided tour helps you to get the most out of your fun-packed day. Deep in the heart of the Florida Everglades is where the adventure begins, with a crazy airboat ride through the 'River of Grass'. Soak up the history of one of Florida's last authentic hidden treasures in the picturesque Seminole Indian Reservation, with over 2,200 acres to explore.
Optional giant 'Swamp Buggies' will provide an unforgettable narrated trip right through the heart of the wetlands. Keep your eyes peeled for Alligators, Bob-Cats and even Ostriches! You'll enjoy an included lunch before heading off to Naples. Here you have time again to relax as you head out into the Gulf of Mexico on a soothing narrated and guided water way cruise around this exclusive resort style town, home to some of America's most prestigious and exclusive real estate! All in all it's a day you won't forget in a hurry.