Family Planner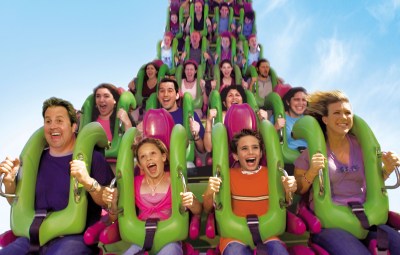 Plan your Florida Holiday with Unbeatable Florida...
The first thing that comes to mind when you think Florida Holiday is all the fun and excitement you'll be having with all that's on offer, but it's very important to remember that the whole state is about the size of the UK. The great thing about Florida is that is ever expanding with new things to do and attractions opening all of the time.
Planning your Florida Holiday is the key to getting the most out of your fortnight's holiday in the Sunshine State, The Walt Disney World Resort alone is the size of greater Manchester, so you can see why planning a Florida Holiday is essential!
At Unbeatable Florida we know, adults, groups and families all love what a Florida Holiday has to offer so we thought we'd give you a helping had by putting together two example plans one for families and one for adults which can be used to help you enjoy the very best of what the Orlando area has to offer, plus it will cut down on stress and arguments too!
Day 1
On arrival at your villa, condo or hotel just rest, have a swim and eat somewhere local and easy.
Top Tip... Even though you will feel pretty tired, try and stay up to acclimatise yourself to local time.
Day 2
Magic Kingdom for the day. When you park, WRITE DOWN where your car is. In the park use the Disney FASTPASS system to 'book' a ride and beat the queues. Times of shows and parades will be on your park guides. Don't Miss Monsters Inc laugh floor one of the latest attractions, end the day by seeing Wishes fireworks display.
Top Tip... At Cinderella's Castle, turn right toward Tomorrowland and go anti-clockwise around the park (most people turn left) so you tend to beat the queues.
Day 3
Chill out at Seaworld's Aquatica, the latest 59 acre water park from Seaworld, or enjoy one of the many other waterparks like Disney's Blizzard Beach, Typhoon Lagoon or Wet 'n Wild. At night head for Downtown Disney adults and kids will love the many great shops and restaurants including Planet Hollywood.
Top Tip... Arrive early at the water parks to avoid the queues on entry.
Day 4
A day at Universal Orlando. Head for Universal studios first and ride Revenge of the Mummy then catch up with Shrek and Friends in 4-D, Save the shows for when your feet need a rest. Evening – explore CityWalk and eat at Bubba Gumps Shrimp Co, Hard Rock Café or at Jimmy Buffet's Margaritaville. Great fun.
Top Tip... Try and eat lunch before 12 or after 2. This is the time most people eat meanwhile ride waiting times are shorter and queues for lunch are longer. If your plan to have a meal at CityWalk you can pre-book in advance using one of the dinning reservation stations located throughout the parks.
Day 5
A day at Disney's Animal Kingdom. Go straight to ride Expedition Everest or get a Disney FASTPASS if the queue is long. While you wait take the Pangani Forest Exploration Trail. Lunch at the Rainforest Café. Plan carefully so you don't miss anything. It's all a treat.
Top Tip... Don't miss Finding Nemo - The Musical. If you like to live on the wild side why not stay at Animal Kingdom Lodge, it's beautiful and very authentic with is savannah rooms and Unbeatable Florida could save you £££s on your Florida Holiday!
Day 6
Get up late then take in some retail therapy at the Florida Mall or outlet stores at Lake Buena Vista Factory Outlet or Prime Outlets or for that special treat head over to the fabulous Mall at Millenia with its designer shops, then cool off at your hotel pool or your villa late afternoon. If your feet are sore get a takeaway pizza and slump in front of the TV for a night. Take a load off...Phew!
Top Tip... The Nike outlet at Prime Outlets is fantastic for sports clothes and trainers. Don't forget to pick up your VIP vouchers.
Day 7
A day at Epcot and a LOT of walking. If you have older children, head straight for Mission: SPACE for your FASTPASS, likewise for Test Track and don't miss Soarin a must for all the family. Stay in Future World for the morning then dad can have a well earned pint at the United Kingdom showcase 'pub'. Fish and Chips for lunch!
Top Tip...Get your spot around the lagoon for the IllumiNations: Reflections of Earth firework extravaganza AT LEAST an hour before the show for this spectacular.
Day 8
An early start for Kennedy Space Centre. The journey is about 45 minutes drive from Orlando, take a bus tour of the launch sites then watches the IMAX films. Plan to spend late afternoon at nearby Cocoa Beach for a splash in the sea. Try a local restaurant for some excellent seafood and take a look at Ron Jon's Surf Shop open 24 hours.
Top Tip... Book lunch with an Astronaut and discover what it's really like to be up in Space.
Day 9
Disney's MGM Studios for the day. Lights, Camera, Action. Don't miss The Muppets in 4-D, or Rockin Roller Coaster and no trip is complete without being spooked at the Hollywood Tower Hotel!!
Top Tip... Book a Fantasmic dinner package which will get you priority seating for the fantastic Fantasmic! Night-time show. Get to the theatre at least on hour early.
Day 10
A day at SeaWorld. Enjoy the Blue Horizons dolphin show and the Believe show with the famous killer whales. For the adrenaline junkies head for Journey to Atlantis or Kraken roller coaster. Stay for the Mistify evening show.
Top Tip... Kids can relax and take some time out Shamu's Happy Harbour, Book on entry for the Saving A Species behind-the-scenes tour.
Day 11
1.It's back for Adventure at Universals Islands of Adventure, enjoy the comic book super heroes that come to life with attractions like Spiderman and the Hulk and if you need to cool off the visit Popeye & Bluto's Bilge-Rat-Barges. Don't forget the Wizarding World of Harry Potter which opens in spring 2010.
Top Tip... Go anti-clockwise around the park, Seuss landing is ideal stop for very young children.
Day 12
Make your way back to any one of your favourite theme parks, water parks or if you still have the stamina why not head over to Busch Gardens Tampa Bay, just over an hours drive from Orlando, where you can experience some big thrill coasters like Sheikra, Gwazi, Montu and Kumba.
Top Tip... Don't miss the Broadway style show KaTonga.
Day 13
Try the thrilling Boggy Creek Airboat Rides (breakfast or lunch there is a must); take a trip to Gatorland; see the re-vamped Cypress Gardens or for an extra special treat why not book a blissful day with the Dolphins at Discovery Cove.
Top Tip... Discovery Cove is the icing on the cake of a truly unforgettable Florida Holiday so why not spoil yourself!
Day 14
All good things must come to an end, take the morning to reflect on your fantastic Florida Holiday with Unbeatable Florida, spend your extra few extra hours shopping or relaxing before the drive back to the airport for your return flight and home.
Top Tip... Why not upgrade your flight and arrive refreshed and rested in the UK.