Discovery Cove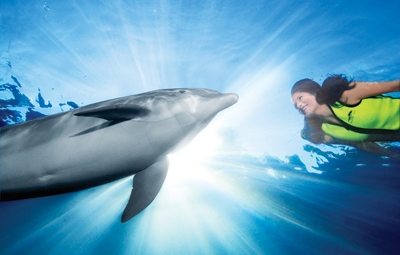 Welcome to this exquisite tropical island paradise. Discovery Cove® gives you the unique opportunity to swim and play with a beautiful Atlantic bottlenose dolphin, snorkel amongst colourful fish in the Tropical Reef, glide with rays and relax on white sand beaches. The dolphin swim is the centrepiece of your visit, here you'll spend 30 minutes, in groups of no more than 6-8, getting to know your dolphin through hugs, kisses and ultimately, a one-on-one swim together through the lagoon.
Then, you have the rest of the day at your leisure to soak up the unique, indulgent atmosphere. Come face-to-face with sharks (safely housed behind glass partitions!) in the Tropical Reef. Discover the Explorer's Aviary, just beyond the towering waterfalls, where you can hand-feed tropical birds, relax in the refreshing waters of Serenity Bay and float along the Wind-away River. As a reservation only experience, which is limited to a capacity of about 1000 guests a day, it's a rare opportunity to set your own pace.
Offered on an all-inclusive basis with breakfast, lunch, snacks and drinks included nothing is going to tax you…Life is good! It's all about a day of wonderful discovery and a lifetime of memories.
Dolphin Lagoon
The dolphin swim experience is the centrepiece of your visit. You'll begin by receiving an introduction to these beautiful animals in a secluded cabana. Then, with one of the trainers, you'll head down to the Dolphin Lagoon in groups of no more than eight, into the shallow turquoise waters to start your dolphin swim experience. Here, you'll meet and play with a dolphin for 30 minutes, getting to know each other through hugs, kisses, rubdowns and, ultimately, a one-on-one swim together through the lagoon.
Tropical Reef
The colourful Tropical Reef provides an ideal setting to snorkel amongst thousands of tropical fish and even come close to sharks! (Safely housed behind glass partitions!). Take as much time as you like to explore the sunken shipwreck, stunning coral and marine life. You'll also find Southern and Cownose rays here, in Stingray Shallows, watch them glide beneath gently beneath your fingers, with some growing up to 4 feet in diameter!
Explorer's Aviary
Just beyond a spectacular waterfall, you'll find a series of towering Aviaries. Here, you can soak in all of the sights and sounds as you encounter hundreds of tropical birds nose-to-beak while they feed right out of your hand.
Wind-away River
Discover what lies ahead along the deep blues and lush greens of this winding river. Here you'll find cascading waterfalls, a secluded lagoon, hidden grottos, and a pathway to the Explorer's Aviary.
Serenity Bay
Relax in the refreshingly warm waters of this oversized freshwater pool. Whether you head deeper for a swim or take your time relaxing on one of the white sand beaches, is up to you.
Laguna Grill®
Take full advantage of the all-inclusive package and dine at Laguna Grill. This is the place to come and enjoy a leisurely continental breakfast and the sumptuous buffet lunch, come in and eat light or dive right in!