Car Rental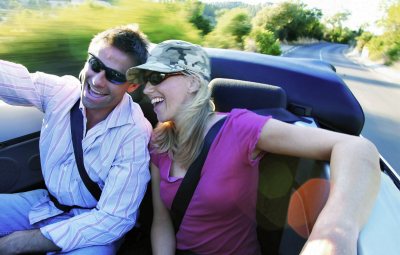 Choose from Economy, Compact, Intermediate, Full Size, SUV, Premium, Luxury, convertible or High Occupancy Vehicles. More
Driving is definitely the easiest and most efficient way of getting around Florida, The state is about the size of the UK so we highly recommend car rental to get the best out of your Florida Holiday, the roads are extra wide, well maintained and there are signposts everywhere, so it's very hard to lose your way!
All our Unbeatable Florida Holidays come with a car rental option, provided by four of the most respected and trusted car rental companies in the USA, Alamo, Budget, Dollar & Thrifty.
To benefit from the full enjoyment of driving in Florida it is important to choose the right vehicle and insurance cover for your party. The last thing we want is for you to be stung by a nasty upgrade surcharge on arrival. By upgrading your car before you go it guarantees the vehicle size and saves you money as it is much cheaper to pre-book in the UK.
At Unbeatable Florida it is our policy to have no hidden extras on collection, that's why all the rates we provide include full insurance of your car we offer Alamo's Fully Inclusive and Gold Cover rates. You are important to us and we want to make sure you are well protected whilst driving your vehicle.
Unbeatable Florida Fully Inclusive Insurance cover includes:
CDW – Collision Damage Waiver
This protects your vehicle against damage or total loss in the event of a claim including theft and vandalism to the rented vehicle. Locally this is charged at $19-$21* per car per day. Please note that CDW does not include Basic Third Party Liability, meaning you could be seriously financially exposed in the event of a claim against you.
EXP – Extended Protection Liability Insurance
Extra protection against third party injury claims is by far the most important cover you can have when renting any hire vehicle. Basic third party covers you for only $10,000 state minimum and we believe this to be totally insufficient protection for you and your family, as some US drivers carry little or no insurance. The extra cover provided to property or injury of a third party is increased to $1,000,000 maximum per accident. Normally charged at $15-$18* per car per day locally.
UMP - Uninsured / Underinsured Motorist's Protection.
Covers the renter(s) and family members in the rented vehicle with up to $300,000 of non-stacked coverage for bodily injury sustained while driving the rental car, and caused by another driver who has no insurance, minimal insurance or is a hit & run driver. Normally charged at over $100* per driver per 2 week rental.
Local Charges
Other incidental cost such as local State Environment Surcharge $2.05 per car per day. Sales Tax – of 7-11% included on all the items above. Airport Access Fee - 11% of the total amount.
Gold / Platinum Option includes:
All the same insurance cover, sales tax & access fees as the Fully Inclusive option
PLUS: Unlimited additional drivers over 25yrs, normally charged at $8 per driver per day locally, Initial take of fuel worth up to $50 per car on collection
Additional Charges
Child seats $9.99* per day locally
Drivers under 25yrs $25* per driver per day locally
Additional drivers $9* per driver per day locally
Tank of Fuel $60-$70* per vehicle
Out of State charges (varies according to state visited)
Personal Accident or effects (PAE) optional

** Sales tax is not included on the additional charges above this will be charged at 7-11% of any total amount paid locally *All $ quoted are approx, Rates can increase at any time and are given as a guide. Based on an Economy Car category.
Driving Licence Requirements
All drivers will need to be in possession of a FULL valid driving licence from their country of residence. If you have the new Photo Card licence you must also present the worded document that comes with the photo license.