Adult Planner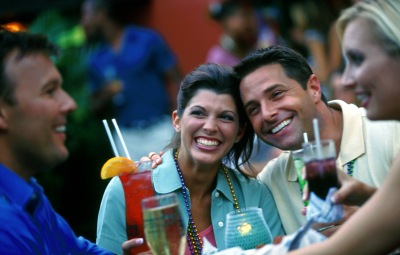 Plan your Florida Holiday with Unbeatable Florida...
Florida not only appeals to families with children but couples and groups of adults who wish to enjoy everything that a Florida holiday offers, combining the amazing theme parks with the sundrenched beaches on the Gulf Coast or the upbeat lifestyle that can be found at Miami's Beaches.
Planning your Adult Florida Holiday is the key to getting the most out of your fortnight's holiday in the Sunshine State, The Walt Disney World Resort alone is the size of greater Manchester, so you can see why planning a Florida Holiday is essential!
At Unbeatable Florida we know, adults, groups and families all love what a Florida Holiday has to offer so we thought we'd give you a helping had by putting together two example plans one for families and one for adults which can be used to help you enjoy the very best of what the Orlando area has to offer.
Day 1
On arrival at your villa, condo or hotel just rest, Find the nearest restaurant or bar and have some food and a Welcome to Florida drink! TOP TIP: Even though you will feel pretty tired, try and stay up to acclimatise yourself to local time.
Top Tip... Even though you will feel pretty tired, try and stay up to acclimatise yourself to local time.
Day 2
A day at SeaWorld. Head straight for Journey to Atlantis and Kraken roller coaster first then enjoy the shows like Blue Horizons dolphin show and the Believe show with Shamu the famous killer whale.
Top Tip... Take 5 with an ice cold beer from Anheuser Busch.
Day 3
Chill out at Seaworld's Aquatica, the latest 59 acre water park from Seaworld, or enjoy one of the many other waterparks like Disney's Blizzard Beach, Typhoon Lagoon or Wet 'n Wild. At night head for Downtown Disney and visit the worlds largest Virgin Megastore, take in Cirque du Soleil's La Nouba or check out what's on at the House of Blues.
Top Tip... Arrive early at the water parks to avoid the queues on entry.
Day 4
A day at Universal Orlando. Head for Universal studios first and ride Revenge of the Mummy then catch up with Shrek and Friends in 4-D, Save the shows for when your feet need a rest. Evening – explore CityWalk and eat at Bubba Gumps Shrimp Co, Hard Rock Café or at Jimmy Buffet's Margaritaville. And get set for some dancing fun at one of the many nightclubs.
Top Tip... Try and eat lunch before 12 or after 2. This is the time most people eat meanwhile ride waiting times are shorter and queues for lunch are longer. If your plan to have a meal at CityWalk you can pre-book in advance using one of the dinning reservation stations located throughout the parks.
Day 5
Magic Kingdom for the day. When you park, WRITE DOWN where your car is. In the park use the Disney FASTPASS system to 'book' a ride and beat the queues. Times of shows and parades will be on your park guides. Don't Miss Disney's three mountains, Splash Mountain, Space Mountain and Big Thunder Mountain, for some knuckle crunching fun, end the day by booking dinner at Disney's California Grill for amazing views of the Wishes fireworks display.
Top Tip... At Cinderella's Castle, turn right toward Tomorrowland and go anti-clockwise around the park (most people turn left) so you tend to beat the queues.
Day 6
A day at Disney's Animal Kingdom. Go straight to ride Expedition Everest or get a Disney FASTPASS if the queue is long. While you wait take the Pangani Forest Exploration Trail. Lunch at the Rainforest Café. Plan carefully so you don't miss anything. It's all a treat.
Top Tip... Why not book an evening meal Animal Kingdom Lodge, a true culinary delight for anyone on a Florida Holiday!
Day 7
Get your credit card armed and ready for a day out at the malls, choose from outlet stores at Orlando Premium Outlets, Lake Buena Vista Factory Outlet or Prime Outlets or for serious spendaholic head for the fabulous Mall at Millenia with it's designer shopping heaven or Florida Mall, then cool off at your hotel pool or your villa late afternoon. Enjoy a night at Disney's Boardwalk at one of the many restaurants or before dancing the night away at Jellyrolls nightclub, for the less energetic they even have their own brewery.
Top Tip... The Calvin Klein store at Orlando Premium Outlets is fantastic for designer clothes and bargain prices.
Day 8
A day at Epcot. Head straight for Mission: SPACE for your FASTPASS, likewise for Test Track. Walk the world in a day by visiting one of 11 countries that make up World Showcase, a quick stop off at the United Kingdom showcase 'pub' is a must for anyone missing home before continuing your exploration of the countries.
Top Tip... Book a meal at one of the restaurants around the lagoon for the IllumiNations: Reflections of Earth firework extravaganza.
Day 9
Have yourself some me time!! Take the day to enjoy the things you like doing maybe that's a game of golf at one of the 900 that Florida has to offer or if you want to top up your tan, why not head over to Daytona Beach for a chilled out day, but don't forget your sunscreen, or for the ultimate indulgence why not get pampered at one of the many spas!
Top Tip... Enjoy a low key evening to recharge your batteries.
Day 10
Disney's MGM Studios for the day. Head for Rockin Roller Coaster to get your adrenaline pumping before taking the spin chilling freefall of the lifts at the Hollywood Tower Hotel, not once but 4 times!!
Top Tip... Book a Fantasmic dinner package which will get you priority seating for the fantastic Fantasmic! Night-time show. Get to the theatre at least on hour early.
Day 11
Get reading for Adventure at Universals Islands of Adventure, see the films, comic and story books come to life with white knuckle rides like the Hulk, duelling dragons and Jurassic Park to tempt you, Don't forget the Wizarding World of Harry Potter which opens in spring 2010.
Top Tip... Go anti-clockwise around the park, enjoy another night at CityWalk to enjoy the Latin Quarter and Pat O''Brien's saloon.
Day 12
Make your way back to any one of your favourite theme parks, water parks or if you still have the stamina why not head over to Busch Gardens Tampa Bay, just over an hours drive from Orlando, where you can experience some big thrill coasters like Sheikra, Gwazi, Montu and Kumba.
Top Tip... Don't miss the Broadway style show KaTonga.
Day 13
Try the thrilling Boggy Creek Airboat Rides (breakfast or lunch there is a must); take a trip to Gatorland; see the re-vamped Cypress Gardens or for an extra special treat why not book a blissful day with the Dolphins at Discovery Cove, finish off your shopping for those designer bargains.
Top Tip... At Mall of Milliena they have live music on selected nights where you can sit and watch whilst having a meal and reflect on a truly amazing Florida Holiday.
Day 14
This is your last day to enjoy the Florida Sunshine with Unbeatable Florida, spend your extra few extra hours relaxing or maybe go for lunch at one of your favourite eateries from the last fortnight in preparation for your return flight home.
Top Tip... Why not upgrade your flight and arrive refreshed and rested in the UK.