St Augustine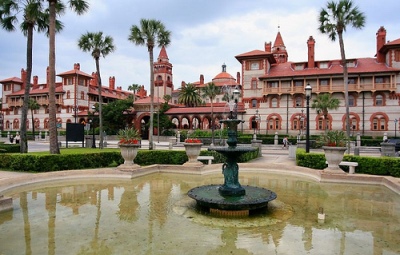 St. Augustine is one of the oldest cities in the United States located along the Atlantic Ocean. St. Augustine has several attractions like The Oldest Store Museum, the Fountain of Youth Archaeological Park, and the Castillo de San Marcos which pay homage to the history of the area. There is a lot of shopping, restaurants, nightlife and entertainment too which a visitor can enjoy, besides the innumerable attractions which the city has to offer.
Attractions
St. Augustine has many interesting and historical sites to visit. At the Old Florida Museum, visitors can write with a quill pen or work. The Colonial Spanish Quarter, the World Golf Hall of Fame and the St. Augustine Alligator Farm are all worth visiting.
St. Augustine also has Ripley's Believe It or Not Museum where visitors can see the odd and the unusual, unorthodox collections from all over the world. The Potter's Wax Museum has over 150 life-like wax figures including famous figures and historical events. There are an ample number of galleries which would also be of tourists' interest. The St.Augustine Alligator Farm has 23 different species of crocodiles from around the world and is worth a visit.
Shopping
St. Augustine has a plethora of shopping malls and outlets from upscale shopping to spas. St. George Street is a historic shopping district. The Premium Outlets in St. Augustine on the sides of I-95. There are about 85 stores including Calvin Klein, Coach, Polo Ralph Lauren, Tommy Bahama etc. Tourists should visit the Old City Farmers' Market to buy flowers, arts and crafts. At the Palm Bay Republic, they can buy t-shirts, music and other souvenir items.
There are specialty shops like A Basket Affair, which customizes baskets for buyers to fit any occasion like housewarming, wedding, new baby etc. Antique Warehouse has a collection of English and French antiques and Whetstone Chocolates is a shop for chocolate lovers, who can take factory tours. For luggage, Among the Flowers, should be visited. This shop carries a variety of handbags, luggage and accessories to suit a variety of tastes. Small Indulgences European Day spa and Salon is a place where tourists can enjoy European facials, massages, body treatments, and hair and spa packages.
Restaurants
St. Augustine has a lot of restaurants which offer a variety of cuisines from American to continental, Spanish and contemporary cuisines. At the Opus 39 Restaurant and Food Gallery, simple and exquisite food, in an elegant setting is served. For Continental Seafood, tourists can visit Peerce's Restaurant, Fiddler's Green Oceanside Bar and Grill.
OC Whites offers a range of menu items for all diners including sandwiches, seafood, steak, chicken and more. At the Rain tree Restaurant a selection of international dishes such as veal, crab cakes, lamb, duck, beef and a variety of pasta are served. The wine list and the dessert menu here are extensive. The Columbia Restaurant serves a selection of Spanish dishes like Paella, shrimp, chicken, seafood, desserts and specialty beverages are all available on the menu. For contemporary cuisine, The Gypsy Cab Co. serves a variety of food such as pasta and chicken.
Nightlife
St. Augustine has a lot of pubs and bars like Ale Works , Beachcomber, Sunset Grille, Milltop Tavern, Stoagies , Scarlett O'Hara's , Trade Winds Lounge , McKnights Pub, St.George Tavern , Prince of Whales English Pub , King's Head British Pub, JP Henleys, The Oasis etc. Tourists to St. Augustine can also visit the places around for a choice of nightclubs and discos which are aplenty.
Activities
Tourists to St. Augustine can do a variety of activities like hiring Boat, Canoe and Kayak Sailboat, Yacht etc. Anastasia State Recreation Area is a popular state park in Florida for Camping, swimming, surfing, fishing, hiking and picnicking and all possible activities. The park is also home to several different species of wildlife. World Golf Village is a unique attraction which has like the Walk of Champions, an IMAX Theater, the World Golf Hall of Fame, golf courses, shopping, dining and a convention center. With two state of the art theatres, 3D World utilizes the newest in computer and laser technology which gives incredible simulated experiences. The Family Fun Factory has go karts, mini golf, an arcade and batting cages and provides fun for the entire family.
Communication
The international access code for USA is +1. The outgoing code is 011, followed by the relevant country code. Plenty of pay phones are available throughout the country. Cingular and T-Mobile are the largest mobile operators and cover the entire nation. Internet is widely available.