Miami Beach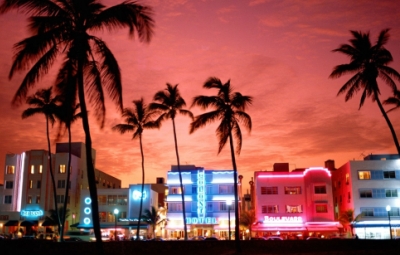 Miami Beach is a pleasant city located in Miami-Dade County in the province of Florida, USA. The Art Deco District, in Miami Beach houses magnificent buildings including star hotels and other establishments, and was one among the National Register of Historic Places. Because of this accolade Miami Beach was globally recognized and tourists swarm to this place to enjoy the colorful sights. South Beach or SoBe is one of the prominent areas of Miami Beach, where topless bathing is common in certain areas. South Beach is also one of the well-known gay-tourism spots in the United States.
Attractions
There are many places of interest in Miami Beach that are sure to draw tourists' attention. An ancient Spanish monastery, is supposed to be the oldest building located on the Western Hemisphere. The Art Museum, located in southwestern part of Miami displays sculptures made by internationally famed artists. The Bass Museum of Art exhibits lovely ancient paintings done by renowned painters. Other suggested attractions include the Coral Castle, Everglades Alligator Farm, Fairchild Tropical Botanical Garden, Miami Metro Zoo and others.
Shopping
Most shops in Miami Beach are clustered along the Lincoln Road. Here there are an ample number of shops including luxurious boutiques, shops dealing with branded clothes, souvenir shops and other shops leaving tourists with a spoilt choice of goods. There are also some shops located at Bayside Marketplace, where tourists can shop for an endless list of goods.
Restaurants
Miami Beach houses a multitude of restaurants that dish-up both local and international cuisines. Travelers inclined to savor Chinese delicacies can visit the China Grill. The Forge Restaurant serves varieties of mouthwatering American dishes. Travelers can feast on French cuisine at the Blue Door Restaurant. Restaurant Pacific Time serves spicy and delicious Asian cuisine. Other suggested restaurants include the Social, Talula, Nemo, Tuscan Steak and the Funkshion.
Nightlife
Miami Beach presents an exhilarating nightlife with many venues offering varied amusement to entertain tourists. There are many venues in this night city that present live music shows and concerts. At Felt, travelers can have a great time playing billiards in an exquisite billiards hall. Visitors wanting to relax with a glass of red wine or other drinks in hand can visit the Lost Weekend. Party animals who want to dance to rocking music can visit the Mac's Club Deuce. Other suggested venues include the Royal Buddha Bar, Purdy Lounge, Playwright Pub and the Dewey's.
Activities
Travelers at Miami Beach can enjoy scores of pursuits. Swimming, sunbathing, hiking, canoeing and bird watching are some of the activities that tourists can enjoy while at Miami Beach.
Communication
The international access code for USA is +1. The outgoing code is 011, followed by the relevant country code. Plenty of pay phones are available throughout the country. Cingular and T-Mobile are the largest mobile operators and cover the entire nation. Internet is widely available.