Lake Buena Vista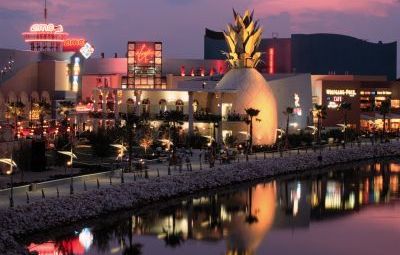 Lake Buena Vista is a pleasant city located in the state of Florida in USA. This township is famed for housing Walt Disney World Resort and a clear pool of lagoon. This is a very small pace with the area of just few kilometers with a population of 15 permanent residents.
Attractions
Flying Tigers Warbird Museum, which houses ancient aircrafts and equipments, must be visited by all the travelers. Wild Bill's Wild West presents lovely performing arts accompanied by a delicious dinner, which can be visited by travelers of all age groups. Travelers, especially with children, should not miss visiting Walt Disney World Resort, which has varied type of amusements that enthralls one and all. Other suggested places of interest include Capone's Dinner & Show, Arabian Nights and Medieval Times Dinner & Tournament.
Shopping
There are an ample number of shops in Lake Buena Vista that deal with designer clothes, fancy jewelry, electronic goods and other valuable delights. Lake Buena Vista also houses supermarkets that cater everything right from vegetables to household articles at one stop.
Restaurants
There are scores of restaurants in Lake Buena Vista that dish-up both local and international cuisines. Travelers inclined to savor Asian delicacies can visit Kimonos and Wolfgang Puck Café. The Crystal Palace and the Garden Grill Restaurant serves the best American delicacies. For a casual dining experience tourists can visit the Pebbles Restaurant and the Crystal Palace. Travelers can feast on international cuisines at the Venetian Room. Diners having a bent towards Italian menus can visit the Palio Restaurant. Other suggested restaurants include Bongos Cuban Café, The Flying Fish and the Todd English's Bluezoo.
Nightlife
Lake Buena Vista houses many night time venues, offering varied types of amusements to entertain its guests. Here the entertainment includes comedy shows, live music shows, bars, pubs and discos. Suggested venues include 8 seconds, Sak Comedy Lab and the Tabu.
Activities
Water skiing, sailing, boating and windsurfing are some of the activities that tourists can enjoy while at Lake Buena Vista. Travelers to Lake Buena Vista can also enjoy dolphin shows. There are two golf courses too in Lake Buena Vista for those who want a golfing holiday.
Communication
The international access code for USA is +1. The outgoing code is 011, followed by the relevant country code. Plenty of pay phones are available throughout the country. Cingular and T-Mobile are the largest mobile operators and cover the entire nation. Internet is widely available.