Kissimmee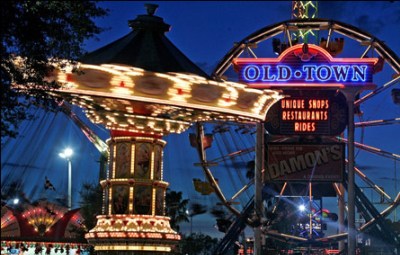 Kissimmee, on the shore of Lake Tohopekaliga or West Lake, was called Allendale but renamed in 1883 as Kissimmee. After the inaugural of nearby Walt Disney World Resort in 1971, Kissimmee began to experience brisk growth due to the huge tourist inflow. Tourism and development replaced cattle ranching, though cattle ranches still exist in the southern part of the County. Kissimmee was affected by 3 hurricanes in the months of August and September 2004, leaving behind hundreds of damaged homes and buildings, and ruining the infrastructure.
Attractions
There are many activities and attractions for the young and the old in Kissimmee.
There are bumper cars and Ferris wheel rides in the Old Town Shopping and Entertainment Complex and the thrills and daily performances at Gatorland. Families can choose from an Airboat Rental, Go-Cart Tracks or the Jungle land Zoo. At the Reptile Serpentarium they can watch the venom being milked from the snakes. For those who have whiz children then a trip to the Kennedy Space Center is a must. Here they can meet an astronaut, see giant rockets, experience spaceflight simulators and even watch a launch. While at Orlando, they can visit the Walt Disney World, Universal Studios, and Islands of Adventure etc.
Shopping
Kissimmee has a lot of tourism based markets. They include convenience shops, mini-supermarkets, branded factory outlets, swim and sport shops, and souvenir and t-shirt shops etc. The tourists should visit the local flea markets which are open on every Friday, Saturday and Sunday for buying gifts and locally grown fruits and vegetables. There are chains of stores like Wal-Mart, Target and K-Mart, supplying almost every item. For electronic equipment, there are a lot of stores like Best Buy, Circuit City, Sound Advice Wal-Mart, Camera Express, Digital World, Electronic World and Radio Shack. Tourists interested in crafts can buy dried or silk floral arrangements, glass beads, fabrics, seashells and collectables. Most shops in Florida, Orlando, and Disney sell t-shirts, and usually have all sizes in all price ranges. There are other stores that specialize in the smaller items called 99c or $1.99c stores.
Restaurants
There are endless dining options in Kissimmee. A tourist can choose delicious options of food from steak, seafood, fast food, pizza or snacks and desserts. There are specialty restaurants like the Cuban Sandwich Shop, and ethnic restaurants serving Caribbean, Chinese, Indian, Italian, Japanese, Korean, Pakistani and Thai cuisines. For seafood, tourists can visit Red Lobster, Shells Seafood chain of Restaurants, Calico Jack's Oyster Bar and Seafood Restaurant etc. There are many hamburger restaurants, like McDonald's, Wendy's Restaurants, Burger King, Popeye's Fried Chicken and KFC. For pizzas, Giuseppe's Italian Restaurant and Pizza, Mickey's Pizzeria, Dominos, Papa Johns Pizza and Romano's Pizzeria are famous.
For Chinese cuisine, a tourist can choose from eateries like China Pearl Restaurant, Emperor's Wok, Taste of China and Twin Dragons Restaurant.
There are a few Japanese Steakhouses and Sushi Bars too along with national chain restaurants like Black Angus Restaurants, Ponderosa Steakhouses, Sizzler Restaurants and Western Sizzling Steakhouses. Some offer buffets, others offer delivery and take-out service.
Nightlife
There is no dearth for nightlife in Kissimmee. Some of the notorious nightclubs in the area are found in Disney run Paradise Island and Pleasure Island. There are a number of Las Vegas style of dinner shows like Capone's Dinner and Show, Arabian Nights Dinner Show, Medieval Times Dinner and Tournament etc. for tourist entertainment. There are casinos too called Sterling Casino and Sun Cruz casino set on ships for those who would really like to gamble. Here tourists can enjoy Vegas-style games in a four hour cruise with slot machines, table games, live entertainment and cocktails.
Activities
Vacationers can choose a myriad of activities other than thrill rides and shows, from fishing, swimming, jet skiing, horseback riding and golfing.
Communication
The international access code for USA is +1. The outgoing code is 011, followed by the relevant country code. Plenty of pay phones are available throughout the country. Cingular and T-Mobile are the largest mobile operators and cover the entire nation. Internet is widely available.