Key West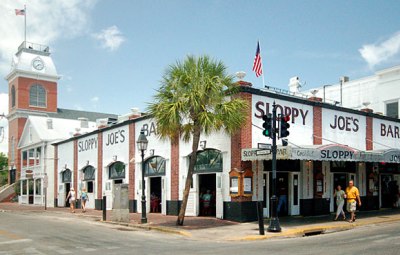 Key West also called 'Conch Republic' is situated between the Atlantic Ocean and the Gulf of Mexico and is the southernmost city of USA at the tip of the Florida Keys and the end of US Highway 1. It is a vibrant city with a distinct Caribbean flavor, its streets lined with palms and colonial houses. It has more than 250 restaurants which serve delicious seafood and has been the favorite haunt for greats like Ernest Hemingway, Tennessee Williams and Harry Truman. The city has a relaxed air, legendary bars and restaurants and lively nightlife.
Attractions
Audubon House and Tropical Gardens, Pigeon Key, National Deer Refuge, Key West Lighthouse Museum are some important attractions. At the Dolphin Research Center, the most enjoyable activities is to get close to the friendly dolphins. Visitors can enjoy half-day education program, walking tours and a 'dolphin encounter', spending 20 minutes of structured swimming with the Atlantic bottlenose resident dolphins.

Ernest Hemingway Home and Museum is Key West's old town house where Nobel Prize winner Ernest Hemingway, one of America's most respected authors, lived and wrote for more than 10 years. The tour enables visitors to step back in time to Hemingway's most productive period. Butterfly Conservatory is called as a trip to paradise, and a walk through the tropical wonderland filled with free-flying butterflies and colorful birds is certainly a magical experience.
Shopping
Key West has all the trappings for tourist shopping from unexpected merchandise in specialist stores to boutiques. There are malls and souvenir shops selling designer labels to fine jewellery. There are surprises like Florida fruit wines, rare shells, hand-painted glassware, the famous Key Lime Jelly and originally printed artistic tee-shirts.
Restaurants
There is a marked Caribbean and Cuban influence in the Key West Cuisine, where fresh seafood predominates along with tangy Florida citrus fruits and exotic plantains and black bean which are Caribbean additives. The sought after delicacy of the island is the locally harvested pink shrimp which is served everywhere from waterfront kiosks to five star hotels. Square One restaurant is one of the outstanding eateries on the island. Half Shell Raw Bar serves its fare in baskets and has a 'crab shack' setting.
Nightlife
There is a vibrant music and bar scene in the Key West and partying continues till the wee hours of the morning. The most popular night spots include is Hog's Breath Saloon where blues and rock music is matched with packed dance floors and chilled beer. 801 Bourbon Bar is known for its Drag cabaret shows.
Activities
Key West has lovely beaches, all equipped with picnic tables and facilities, along with a host of water sports along big game fishing and scuba diving. There are excursions, tours, walks, experiences and events and fascinating activities like swimming with dolphins, a lantern-led ghost tour of the Old Town, a sunset sail on a tall ship, or riding the Conch Tour Train through 4 centuries of history. There are also infinite attractions to visit, such as a butterfly conservatory, aquarium and a range of remarkable museums.
Communication
The international access code for USA is +1. The outgoing code is 011, followed by the relevant country code. Plenty of pay phones are available throughout the country. Cingular and T-Mobile are the largest mobile operators and cover the entire nation. Internet is widely available.