Key Largo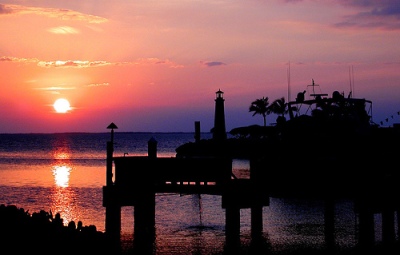 Key Largo is the northernmost island of the Florida Keys island chain, in U.S.A. Key Largo is sandwiched between the Everglades National Park and the only living coral barrier reef of North America. It is the Diving Capital of the World but more famous as a sport-fishing destination. Key Largo's proximity to the Everglades makes it a premier destination for birdwatchers and eco-tourists. The island's rich history and beauty has a dynamic community of artists who exhibit at several local galleries. There are a full-range of restaurants, bars, hotels, motels and resorts. Key Largo is located just minutes by car from mainland Florida, making it a cheap and perfect getaway.
Attractions
There are many attractions for tourists in Key Largo from interactive water parks like Jacob's Aquatic center and Spiegel Grove shipwreck to Everglades National Park which has 300 species of birds including the bald eagles. There are many art galleries where tourists can browse which range from inexpensive hand-crafted pieces to sculptures made by internationally renowned artists.
Shopping
Tourists to Key Largo can take home t-shirts, Shells, custom made jewelry, and gifts. There is a beautiful underwater photography shop of Stephen Frink where tourists can buy beautiful prints of photography. Some of the names of the shops are Happy Feathers Gift Shop, NJ Design Gift Shop, Shell World, T-shirt City, World Water sports etc.
Restaurants
There are a plethora of restaurants and cafes in Key Largo serving various types of cuisines. At the Coconuts Restaurant and The Fish House and The Fish House Encore, tourists can have the best in 'conch-style' cooking and the freshest and finest seafood. At Snook's Bayside Restaurant and Grand Tiki Bar, visitors can enjoy award winning menus along with nightly live entertainment. There are many restaurants that serve grilled food, Chinese cuisine, Steaks, pizzas and even Japanese food. Some suggested eateries are Upper Crust Pizza Key Largo, Sushi Nami, Rock Harbor Pizza, Rib Daddy's Seafood and Steaks, Cheng Garden, Bayside Grill etc.
Nightlife
There are not many options for nightlife in Key Largo, but since Florida is only a short drive away, tourists can have all the nightlife imaginable in Florida. Settling down with a drink or two is what guests can do for the night, if they are not tired out with the day's activities and fun.
Activities
Tourists can indulge in a plethora of activities in Key Largo from sightseeing tours, eco-tours and wildlife displays, theater, sunset cruises, visiting parks, beaches and places of interest and indulge in water sports like kayaking and parasailing. Those tourists traveling with children should not miss dolphin encounters at the various dolphin pools in Key Largo.
Communication
The international access code for USA is +1. The outgoing code is 011, followed by the relevant country code. Plenty of pay phones are available throughout the country. Cingular and T-Mobile are the largest mobile operators and cover the entire nation. Internet is widely available.