Fort Lauderdale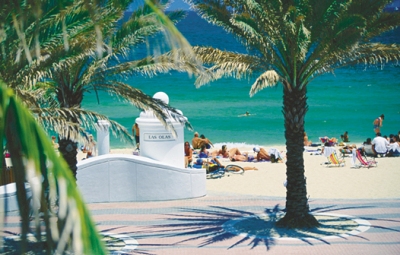 Fort Lauderdale is popularly known as the "Venice of America". It has over 200 miles extensive network of waterways and canals, and is an especially popular destination for fishing and yachting. It is a city in the Broward County, Florida, United States. It is adjacent to the Atlantic Ocean and has several miles of beachfront. Today it is a major tourist destination and the yachting capital of the world. Summers in South Florida are tropical and fall, winter and spring are generally pleasant making it an ideal holiday destination.

The city is also sometimes referred to as "Fort Liquor dale" because of its sandy beaches, numerous bars, chic nightclubs, strip clubs, and overall party atmosphere. But the gorgeous stretch of beaches and nearly year-round sunshine and ideal climate are the city's biggest draws. For tourists there's a lot to do here than just soaking up the sun or strolling along the beach at dusk.
Attractions
The beach of Fort Lauderdale is one of the cleanest and uncluttered beaches in Florida. Its boulevard too is worth promenading. The Deerfield Island Park, reached only by boat, is the natural habitat for gopher tortoises, gray foxes, raccoons, and armadillos which is worth visiting. Tourists can also take a one-hour drive from Fort Lauderdale to the Big Cypress Seminole Reservation. Tourists can also visit the Billie Swamp Safari, where one can come across deer, water buffalo, bison, wild hogs, hawks, eagles, alligators, and occasionally the rare Florida panther. They can also see animal and reptile shows. Another attraction worth seeing is the Butterfly World, a 3-acre which has observation decks, waterfalls, ponds, and tunnels where thousands of colorful butterflies flurry around.
Shopping
Fort Lauderdale is a shopper's haven and has many unique stores and boutiques in addition to malls and shopping centers. For great shopping, tourists can stroll down Las Olas Boulevard, which is lined with top-notch boutiques and restaurants. The town also has bizarre shopping areas in its many ethnic neighborhoods, places where a keen tourist can come across clever antiques, books and printed matter, clothing, and accessories. Bargain hunters can head to the Festival Flea Market Mall, where there are more than 800 stores, booths, and kiosks which sell new brand-name merchandise at discounted prices.
Restaurants
There are innumerable restaurants and cafes where tourists can feast. Some popular cafes are the Aruba Beach Café, Bangkok Café and Biddy Early's. To try seafood tourists can head to The Blue Moon Fish Company and Cap's Place. For contemporary cuisine, By Word of Mouth and Brooks are the places to go. Casa D'Angelo is the restaurant suggested for Italian food.
Nightlife
Fort Lauderdale presents a glorious and extremely colorful nightlife. Nightlife lovers can flock to the nearby Riverfront area, packed with bars and free entertainment.. There are scores of bars and piano bars to choose from like O'Hara's Hollywood, Interlude Bar and Cabaret, Side Bar, Sushi Blues, Tavern 213, Voodoo Lounge and Tarpon Bend.
Activities
There are a lot of water and land based activities that tourists can indulge in from Kite surfing, surf boarding to golf, biking and walking. The ferry ride to the island cruises past the opulent mansions of the city's wealthy residents. For those who prefer indoor activities, the Norton Museum boasts an exceptional collection of American, Chinese and European art. Shopping, the city's most favorite pastime where designer boutiques to big name department stores are all a part of the city. The city has a lot of options for family outings such as Everglades Holiday Park and the Museum of Discovery and Science.
Communication
The international access code for USA is +1. The outgoing code is 011, followed by the relevant country code. Plenty of pay phones are available throughout the country. Cingular and T-Mobile are the largest mobile operators and cover the entire nation. Internet is widely available.