Daytona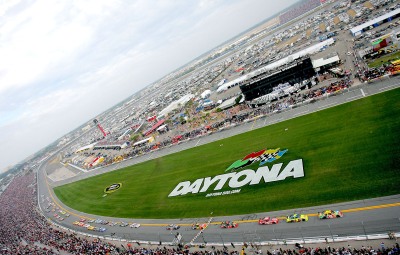 Daytona Beach is America's most desired family beach holiday spot. Its extensive white sand beach stretches up to 37 kms and is a favorite destination for international speedways. Renowned competition for Daytona 500 NASCAR and Pepsi 400 are held in this beach. The beach offers many in and off water amusements which include surfing, jet skiing, boating, parasailing, fishing, cycling and more.

There are many archaeological sites, mini golf course, museums, haunted houses, planetariums and chocolate factories to be visited. Walt Disney World, Sea World, Universal Studios, Epcot, Wet 'n Wild, Church Street Station, MGM Studios, and Kennedy Space Center are just few hours away from the resort. This destination has about eight million visitors every year.
Attractions
There are plenty of venues worth a visit during your stay in Daytona Beach. International Speedway is the site of the Winston Cup and the Pepsi 400 among other races, but is best known as the home of "The Great American Race". The world-famous long stretch of white sandy beach allows vehicle driving during daylight hours, and offers nearly every water sports as well as an active walkway. There is also an 18-hole golf course that comes in handy to entertain golfers. Nearby places of attractions include Kennedy Space Center, Sea World, Universal Studios, Walt Disney World, Wet n Wild and much more.
Shopping
Volusia Mall, opposite to the International Speedway track, is the major shopping complex in Daytona Beach. This complex includes many departmental stores, specialty shops, food courts that are open all through the week. Daytona's historic place, Riverfront Marketplace, is the best place to stop for antiques and fashionable wares. Shops in the Main Street deal with motorcycle accessories and leather goods. Harley-Davidson store, at the north end of Beach Street, is much famous among the motorcycle lovers.

Those interested in haggling should visit Daytona Flea and Farmer's market for fish products, souvenirs, jewels and clothes. The market, off Tomoka Farms Road, is open every weekend from Friday to Sunday. Along the beachside walkway there are many stores selling souvenirs, T-shirts, swimwear, sun-cream- in fact all things a beach lover needs. The Caribbean Trading company is the home for the best Hawaiian shirts.
Gift and collectible specialty shop, Spun glass ornaments, Seashore Ornaments are a few mementoes which can be bought in the innumerable shops.
Restaurants
There are over 400 restaurants in Daytona offering everything from French, Italian, Caribbean, Chinese, American and Mexican cuisines. One looking for thrilling views of the coastline during dining will definitely opt for "Top of Daytona" restaurant on the 29th floor in South Atlantic Avenue. American and Continental delicacies are served here with the wonderful view of the coastline. "Aunt Catfish", on the River, in Halifax Drive, is famous for its fresh seafood and for pleasing and modest atmosphere. Motor sport buffs like the Cruisin' Café Bar and Grill in Atlantic Boulevard, which is not only a restaurant but a museum as well, presenting more than a million dollars' worth of unique racing amenities and a menu which includes burgers, wings, steaks, seafood, soups and salads.
Nightlife
Nightlife is active in Daytona Beach. The Main Street and the Seabreeze Boulevard houses the most frequented Blues Bars and dance clubs. During the annual "Bike Week", many bars and restaurants rise in the resort, some offering topless shows and live music. For decades Ocean Deck Restaurant and Beach Club are the beach front favorites, where guests of all ages gather, and become active after 9:30 pm. Oyster pub in Daytona Beach and Houligan's Irish Sports Bar in Ormond Beach are the favorite venues among the sports freaks. Martinis, in the historic Riverfront Maketplace is also frequently visited by the visitors. The beaches are free of traffic and travelers can keep away from the sounds and enjoy a romantic walk in the twilight.
Activities
Daytona's extensive beach offers hours of amusement in the sun for the visitors, even during the winter months. The beach is lined up with vendors dealing with amenities for water and beach sports. Parks in beachfront provides softball and volleyball courts, playgrounds and picnic areas. Between May and October guests are elated to see the beaches play host to sea turtles that come on shore at night to lay eggs in the sand. Two months later, hatchlings come out from each of these nests and move slowly to the ocean. This wonderful cycle is thousands of years old.

The main attraction in Daytona is the International Speedway, which hosts thrilling events all through the year. Other attractions include simulators, go-carting, video arcades, museums, bikini watching, kite flying, riding floats, swimming, enjoying free concerts, bicycling, sitting under umbrellas, relaxing and much more. Angell and Phelps Chocolate Factory offers free guided tour taking visitors behind the scenes of how chocolate candies are handmade and boxed for shipment to chocolate lovers nationwide.
Communication
The international access code for USA is +1. The outgoing code is 011, followed by the relevant country code. Plenty of pay phones are available throughout the country. Cingular and T-Mobile are the largest mobile operators and cover the entire nation. Internet is widely available.