Cocoa Beach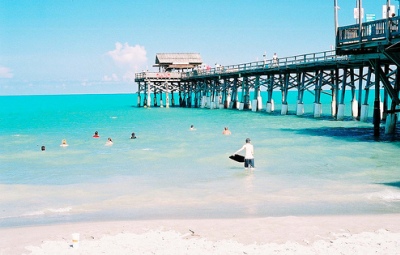 Cocoa Beach is a small but famous city in the territory of Brevard, Florida. Cocoa Beach was internationally famed only in mid 60's, when America's space agenda was initiated. NASA's John F. Kennedy Space Center is just few miles away from Cocoa Beach. Even now the best technical minds can be found in and around Cocoa Beach. The houses in this city are basically built out of the mud taken from the Banana River. These houses give an ancient and candid looks to the city. Globally famed Ron Jon Surf Shop, a giant store, over 50,000 square feet, is a palace for surf, skate and other beach amenities, is located at Cocoa Beach.
Attractions
Travelers in Cocoa Beach should never miss a visit to Kennedy Space Center. Here visitors can experience advanced space adventures, touch a piece of moon, and take a trip into the space in the IMAX theatre. Tourists can also visit the ancient Cocoa village and local museums.
Shopping
There are many shops in and around Cocoa Beach that deal with articles right from toys to house hold requirements. Ron Jon Surf Shop should be visited for all water sports and other amenities.
Restaurants
Cocoa Beach can be aptly termed as gourmet's paradise, where travelers can experience a variety of cuisines. American delicacies should not be missed at the Coconuts on the Beach and the Pier House Restaurant. New China serves the city's best Chinese dishes. Travelers inclined to taste English cuisines should visit The Pig and Whistle and The Cottage Pub. Yummy German gourmets are served at the Heidelberg Restaurant. Mouth watering spicy Indian dishes are well served at the Punjabi Indian Restaurant. Other suggested eateries include Italian Courtyard, Taco Bell, Castaways of Cocoa Beach, Thai Dixie and much more.
Nightlife
There are a few places to visit for a night from casinos to bars for partying and fun.
Activities
There are a range of activities for visitors at Cocoa Beach. Travelers can stroll, sun-bathe, swim and surf in the beach vicinity. Boat trips can be held to explore the city's exciting wildlife. Horse riding and go-karting can also be enjoyed by the travelers. There are good choices of golf courses for golfers and tenpin bowling for children.
Communication
The international access code for USA is +1. The outgoing code is 011, followed by the relevant country code. Plenty of pay phones are available throughout the country. Cingular and T-Mobile are the largest mobile operators and cover the entire nation. Internet is widely available.